AUS
Top Stories:
1. Just as we're getting into the thick of the AUS season, we're already getting a very clear picture of the playoff race. UNB, StFX, Acadia, and SMU are all officially locked into the postseason. That leaves only two more spots up for grabs between UPEI, Moncton, and Dalhousie. Again, the power balance is pretty clear in the AUS, and most agree that UPEI can be better than what they've shown us. Dalhousie is dragging up the rear with seven points, but Corbin Boes was terrific in a losing effort against UNB. Even though it's a loss, Boes getting back to his peak form could be the key ingredient to a late charge this season. Playing better hockey in front of him wouldn't hurt either.
2. The UNB Varsity Reds suffered their first regulation loss on the weekend against StFX, a 5-2 final. The Varsity Reds hate losing to StFX on any occasion, but dropping this contest at home can't make it feel any better. Both teams are now tied at 35 points atop the AUS standings and is a reflection of how good these programs are. StFX now have the edge on the season series with two wins, but will square off twice more.Michael Clarke has been especially good against the Varsity Reds this year with five points over the three games they've played. Despite being frequently active over the Christmas break, getting back to conference play wasn't the smoothest transition for them.
3. The Acadia Axemen are without defenceman Alex Lepkowski who has now served five games of a seven game suspension, his second disciplinary ruling of the year. The Axemen are also patiently awaiting the return of Geoff Schemitsch, but are still finding ways to win. They defeated both Saint Mary's and Moncton this week, while new addition Cristiano DiGiacinto finished with an assist in each game. Acadia's power play continues to be terrific, but SMU held them off the power play scoresheet for only the third team this season on Saturday.
4. Eagerly anticipating a better year in 2018, the UPEI Panthers started it off on the right foot with a shootout win over StFX on Friday. Matt Mancina gave the Panthers a nice outing, but had some difficulty against Dalhousie in a 5-2 loss. Still waiting to see the real gumption this Panthers team has on paper, but a very solid week from Cody Payne suggests there's more left to come. Getting Darcy Ashley back for second semester is a big boost for them too, and encouraging given his injury history. Much like first semester, all the pieces exist for UPEI to turn this season into a good one, but whether they actually will and can be consistent is yet to be seen.
5. New year but same problems for the Moncton Aigles Bleus. They were rudely welcomed back by the SMU Huskies who lit them up for seven goals on Wednesday, then conceded another seven on Saturday. Moncton has now allowed five or more goals in 10 of their last 11 games. For SMU, they split their weekend but are still 8-2 in their last 10 games. Aaron Berisha added an AUS career-high three assists in the game against Moncton while Anthony Repaci returned from injury to score twice.
Other Notes:
For Moncton fans eagerly awaiting the arrival of Etienne Montpetit: He was traded from Val-d'Or to Victoriaville where he'll finish his QMJHL career.
Lane Cormier joins StFX as a late addition this season from Rouyn-Noranda in the QMJHL. Don't expect much from him the rest of the year if he sees playing time. Missed a hefty chunk of this QMJHL season with injury.
Acadia is off and running for the recruit season with the addition of Jack Flaman from the Red Deer Rebels for next year. Another good depth piece, Flaman joins Jackson Houck as the two newest additions.
Alexandre Goulet is already making dents in the scoresheet with two points on the weekend and his first career AUS goal coming against Dalhousie.
Unsung Heroes:
Taylor Makin, F | Acadia Axemen
Cristiano DiGiacinto was the 'big ticket' add for Acadia over the Christmas break, but so far it's been Taylor Makin stealing the show. Not known for his offence, Makin was brought back to Acadia for second semester after his brief experiment with pro didn't pan out. The Axemen were hoping to get Makin's toughness and grit back to a team that loves to cause a ruckus every now and again. But this week they got a couple goals from Makin in two winning efforts. After scoring four times last year, registering two goals in as many games is a big contribution offensively for Taylor who was makin' things happen this week.
Key Games This Week:
StFX vs UNB | Sat. January 13th, 7:00 pm AST
It's the CUSN game of the week, and with good reason. All eyes should be on this contest between two top five nationally ranked opponents. After an impressive 5-2 win over UNB, the X-Men return home for this matchup to attempt a follow-up win. A victory here solidifies StFX's position atop the CUSN MHKY power rankings.
---
OUA East
Top Stories:
1. The Queen's Gaels managed to snuff out UOIT's winning streak at eight games after beating them twice last week. The Gaels were able to get Nathan Billitier and Jaden Lindo healthy over the break, but are still minus the services of Brandon Prophet. But the real big addition to the Gaels over the break was John Erskine. Unfortunately for them, 12 seasons in the NHL make him ineligible to play. On the upside, the coaching staff just got a whole lot tougher. Erskine's hiring as an assistant coach comes as a result of Tony Cimellaro landing a job in the AHL with the Belleville Senators. Although the hiring probably won't have a drastic affect on the on-ice product, the Gaels are trending upwards with four straight wins.
2. With around 10 games remaining in the regular season, the race for the postseason is getting heated between the RMC Paladins and the Nipissing Lakers. The Lakers are 1-7-2 in their last 10 games leaving the door open for the Paladins. Leading the charge on the RMC side is the country's leading scorer Riley Brandt (no, that's not a typo). The Paladins came dangerously close to besting UQTR again, but ultimately emerge from the week with no points against the Patriotes and Carleton. Jarred Toole has decided to return home after one semester with RMC while Dean Kiriacou is sidelined with a broken ankle. As a result, the Paladins are shallow up the middle, but still pack a punch on the wing. If the Lakers figure things out in the next few weeks, it could spell trouble for RMC who need to take advantage of them while they're down. Lucky for us, Nipissing and RMC play each other twice more which should provide top-quality entertainment.
3. After stockpiling their roster through 2017, the McGill Redmen go out an lure Jacob Gervais-Chouinard back just for good measure. One of the best goalies the OUA had to offer in previous years, Gervais-Chouinard joins an already stacked crease. You have to wonder how L.P. Guindon and Joe Fleschler feel about this, as Gervais-Chouinard almost inevitably means a decrease in ice-time for them. But Kelly Nobes has never been shy to rotate his goalies, to the point where he'll even alternate starts between netminders at the University Cup. It's a rare strategy to employ that late into the season, but Nobes has made it work. If he's as confident with Gervais-Chouinard again this year, we may seem him do it again into the OUA playoffs.
4. The Concordia Stingers traded blows with the UQTR Patriotes earlier this week in a game which gave viewers a lot to be excited about. William Gignac made his season debut after sitting out first semester, and immediately made an impact for the Stingers with a crucial power play marker late against UQTR. Although Christophe Boivin sealed it for the Patriotes in overtime, Marc-Antoine Turcotte turned aside 35 of 40 shots before going on to shutout Ottawa the next night. With no return in sight for Julio Billia it seems, Turcotte might be the man down the stretch. UQTR's goaltending allowed four goals in both games, but still have an immaculate .922% team save percentage… just two points shy of Concordia's .924%.
5. Attempting to ride the wave of an eight game win streak that sent them into the break, the UOIT Ridgebacks were knocked back a peg or two with a couple of losses, shuffling them to sixth in the conference. Having gone goalless in three straight, this is the longest drought of Mike Robinson's season. Look for the Ridgebacks to try and get him involved again on the scoresheet this week as Ben Blasko tries to stay hot with 14 points in his last nine games.
Other Notes:
This MacKenzie Savard guy might be pretty darn good. But with only one start under his belt in the OUA, we'll wait a few weeks to say for sure if that's the case. He made 32 saves in a 2-1 win against a sometimes offensively deficient Nipissing team. But a good goaltending performance is a welcome event for Laurentian.
With 16 goals on the year, Riley Brandt currently leads the country in that regard. He's also tracking down some RMC history just three goals back of Paul Bradley's remarkable 19 goal season for RMC from 2006-07.
Although he's only seen three career OUA games, Carleton's Matthew Jenkins is a perfect 3-0 with a .966% save percentage. Not bad for a third string goalie.
Disappointing week for Ottawa who now have four straight losses on record while Eric Locke has just two points during the losing skid.


Unsung Heroes:

Duncan Campbell, F | Queen's Gaels

Given some more time to develop, Duncan Campbell could turn into the OUA's version of Mark Simpson, one of the best depth players in the country. A forward with good size, Campbell does a little bit of everything, and does it pretty well. Not a player to wow you with any specific attribute, he stands at 6-foot-3 with solid defensive instincts and is in tune with his role. Chipping in offensively is something Campbell doesn't do all that often, but his goal against UOIT this week provides the opportunity to highlight one of the OUA's best depth players.
Key Games This Week:
McGill vs UQTR | Wed. January 10th, 7:00 pm EST
Here's the best chance UQTR has had all season long to silence the naysayers. McGill has looked unbeatable at times this year, and have won games in a multitude of ways, so for the Patriotes to pull one out at Le Colisée does a lot for their case as a top three OUA East team. Typically a great contest when these two meet, expect nothing less on Wednesday.
---
OUA West
Top Stories:
1. Returning from an exhibition trip to Thunder Bay where they took on Lakehead, the Guelph Gryphons returned to conference play with two wins over Toronto and Brock. Now 9-1 in their last 10, the Gryphons have been the epitome of consistency in the OUA West. Todd Winder is a microcosm of that with a team-leading 13 goals and scoring in eight of his last nine games. Whatever the scenario, Winder keeps finding new ways to score despite having yet to register a power play marker on the season. Patrick Kudla has now missed four straight games with injury, but Mathieu Henderson stepped back into the lineup on Thursday and is clearly still a big difference maker for this team.
2. The plot thickens for the Ryerson Rams who came back from UNB with a ton of confidence after their showing against the Varsity Reds at the Pete Kelly Cup. They turned that into an emphatic 7-1 blowout against Laurier, but then blow a 3-1 to Western to lose 4-3 in overtime. But the biggest plot twist came when star forward Matt Mistele left the Western game urgently and went straight to hospital after having his wrist cut open by a skate. After undergoing surgery that night, the timetable for a return won't be the near future. There's going to be an elevated responsibility on Aaron Armstrong and guys like Steven Harland and David Miller over the next few weeks who need to continue to play well for Ryerson's confidence to stay high.
3. Losers of three straight, the York Lions haven't had much consistency of late. Tough to tell exactly what to chalk it up to, but the reality is Derek Sheppard, Trevor Petersen, and even Mack Shields haven't been as good lately as everybody knows they can be. If those players aren't at their best, York needs somebody else to step up and seize the moment. As good as Josh LaFrance has been this year, the Lions need more than just him to separate themselves from the top bunch in the OUA West. Good news for York is there's still ample time to make the last few weeks of play just a footnote over the course of a 28 game season.
4. Had a chance to see Laurier in person again this week, and although underwhelmed by their game against Ryerson, can still see there's a lot of balance on their roster. There's still holes with this program, but they've managed to develop themselves into a much better team than they were a few seasons ago. Kyle Jenkins, Mac Clutsam, and Matt Franczyk highlight a defence which has gotten better in leaps and bounds from two years ago. Their forward group has a bit of everything, but power forwards Anthony Sorrentino and Brandon Robinson are/have the potential to be among the best in the OUA. Although Laurier is still capable of the occasional bomb here and there, they have the composition to beat anybody.
5. The Western Mustangs are looking to put a dismal 2017 behind them, and are off to a perfect start in 2018. That 100% winning percentage won't stay forever, but it's a big step in the right direction for a team that was flirting with playoff ineligibility for most of the first semester. Luke Peressini is healthy and looked rock solid in both games against Waterloo and Ryerson. Stephen Desrocher is clearly an impact defender and will only get better with more time in this league. Once Cordell James and Jonathan Laser rejoin this lineup there's going to be a lot to like about Western heading into the playoffs, which I believe they will qualify for by a comfortable margin.
6. Both the Waterloo Warriors and Windsor Lancers are fighting through some rough stretches of hockey. Now burdened by a six game losing skid, the Warriors are 9th in the west. Markson Bechtold and Keigan Goetz have combined for just four points over that streak while missing some time with suspensions too. For Windsor, their offence is still very widespread, but they've had a hard time closing out opponents lately. They had leads against Lakehead which they couldn't hold this week even with Todd Ratchfordand Justice Dundas back in the lineup.
Other Notes:
Clint Windsor continues to set the benchmark for saves in the OUA this year. With 561 already on the season, Brock goalies are still seeing the most rubber per minute that any other team this year with 0.62 shots faced per minute.
Hunter Atchison had himself a nice little week for U of T with two goals in an upset win over York. Don't be surprised if Atchison develops into one of U of T's best offensive weapons over the next few years.
Any late rumours regarding Darby Llewellyn can be washed away, he's staying pro. The deadline for second semester additions is January 10th, but don't expect to see anything more out of the OUA.
Unsung Heroes:
Jacob Ringuette, D | Lakehead Thunderwolves
Not a household name among the best OUA defenders, Jacob Ringuette is a pretty quiet defender if you don't look at his game closely. But when you do, you'll see why he's Lakehead's most important blueliner. Without Justin Sefton this year, Ringuette lost his long time pairing partner, but he's done just fine without him. This week Ringuette chipped in with three assists and a goal, which is a lot of offence for him. But shutting down Windsor's top lines went even further in Lakehead's two key victories this week.
Key Games This Week:
Western vs York | Sat. January 13th, 7:00 pm EST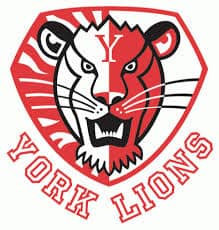 A couple season's ago, this would've been a matchup of two top dogs in the OUA West. Although these teams have been on opposite ends of the spectrum for most of the year, their play is trending towards each other right now. A win for Western goes a long way in making a case for their danger come playoff time, while York need to right the ship to recover some of the respect they had earlier on in the season.
---
Canada West
Top Stories:
1. The Manitoba Bisons find themselves in a very snug spot in the Canada West standings with 24 points. That puts them comfortably ahead of UBC, MRU, and Lethbridge, and not all that far behind Saskatchewan for second. They received some great goaltending from Byron Spriggs this week, and contributions from Michael St. Croix and Brett Brooks among a cast of others at Manitoba led to a huge sweep of the Alberta Golden Bears. An opportunistic team, Manitoba doesn't have the skill or depth that either Saskatchewan or Alberta have, but their ability to finish and generate their own chances make them a competitive team. When they get quality goaltending from Spriggs, everything else seems to fall in place for hard working Bisons program. When they do, they're a notoriously frustrating team to try and contain.
2. The Mount Royal Cougars put on one of their most dominant showings on the year against the Regina Cougars on the back of a four goal performance from Jesse Lees, and another four points from Bradley Kennedy. Their 8-2 win on Friday was the Cougars' best offensive performance since they piled on nine goals in a 9-2 win over Regina on Nov. 13th of 2015. After heading into the break as losers of four straight, these two wins were especially important with Calgary biting at their heels for the final playoff position. For Regina, this is definitely a setback. Mount Royal is a program they need to beat if they're going to reel themselves into the playoff picture. Fortunately for them, Calgary, UBC, and Lethbridge comprise six of their next 10 games. So there's still an opportunity for them to climb into the picture, but the margin for error has shrunken even more.
3. Slowly but surely, the Lethbridge Pronghorns are piecing together a respectable looking season. This coincides suspiciously well with the rumours of them being in the U Cup hosting hunt. They fell short to Saskatchewan in their first game, but game two went the Pronghorns way to the tune of a 4-2 final, improving their record to 8-9-1. The Pronghorns caught a break with the Calgary ineligibility sanctions, and have a great chance to take advantage of it as long as they keep gathering points. Saskatchewan continue to trod along, despite the loss. Connor Sanvido managed to make the Huskies D-men look silly and burned Jordon Cooke pretty bad too. But in classic Cooke fashion, he went on to stone the Pronghorns on four straight breakaways later.
4. Now in an unfamiliar position after ineligibility issues punted them out of the playoff picture, the Calgary Dinos trail the final position by five points after a weekend split with UBC. Morally, the game one victory for UBC was huge in a rematch against the team that ended their season a year ago. Austin Vetterl continues to carry a hefty offensive burden, but not far behind is Michael Stenerson with eight goals. That's already double his output from last year. For Calgary, the new additions Ryan Graham and Tyler Coulter were in the lineup. Coulter scored a goal while Graham recorded an assist, but the real offensive standouts were the typical suspects for the Dinos. Still getting great goaltending from Matthew Greenfield and Jordan Papirny, the Dinos are still going to need to overcome some adversity to sneak into the playoffs and make a run of it.
Other Notes:
If there's any rust for Riley Sheen, he didn't show it this week. Sheen scored in his return for Calgary on Friday and piled up 10 shots total on the weekend.
The Christmas break didn't seem to do much for UBC's injury situation as Rylan Toth, Shaun Dosanjh, Austin Glover, and Manraj Hayer were all out of action. On the upside, Tanner Faith made his season debut.
This week was Manitoba's first weekend sweep of Alberta since January 8th and 9th of 2016.
The Maxwell's were all reunited again this week against Saskatchewan with Russ, Mitch, and Brooks all dressing for Lethbridge. Together, the three combined for three points, none of which came from Mitch who has flown under the radar lately.
Unsung Heroes:
Adam Henry D | Manitoba Bisons
When it comes to the conversation of best defenders in the league, Adam Henry's name won't often be named as one of the first, but it should be. Maybe it's because he's played on a pretty quiet Manitoba team over the years. But he's established himself as one of their very best players and was integral in their two wins over Alberta this week. Henry was a +3 on the weekend, and added another three assists to the equation. Tough matchups all weekend were handled well, and Henry now has a career-high 17 points from the back-end with lots of time left in the regular season.
Key Game This Week:
Manitoba vs Saskatchewan | Fri. January 12th, 7:00 pm CST
What a slam dunk itwould be to the start of 2018 for Manitoba if they can knock off both Alberta and Saskatchewan in consecutive weeks. Even one win in this series is a pretty big statement, and would have the Bisons knocking on the door for a national ranking. Don't look now, but a win for Manitoba puts they right on the heels of the Huskies in the standings.