AUS
First Semester Report Cards:
1. UNB Varsity Reds, Grade: A
So far, so good for UNB. There was a lot made of the roster turnover this year, and there's always an element of pressure when hosting a national championship. Alex Dubeau has showed well as the number one goalie for UNB, and although they don't have a one-in-a-million player Phil Maillet, their offence is still insanely lethal with guys like Kris Bennett, Stephen Anderson, and Cameron Brace stepping up. The only team in the country yet to lose in regulation, the expectations are still greater than ever in 2018, but the way they've handled it so far is worthy of top marks in the AUS.
2. StFX X-Men, Grade: A
Falling only a point shy of UNB for tops in the AUS thanks to a 5-3 regulation loss at the hands of the V-Reds in November, StFX has had a collectively great semester. There were big expectations for the X-Men too after seeing their roster virtually unchanged from last season and added one of the best OA d-men available in Santino Centorame. Consistency killed the X-Men at times last year, so piecing together solid week after solid week so far this season is extremely encouraging. All three losses came in a row to start November sandwiched between an eight game winning streak and a seven game winning streak, the X-Men are in a great position heading into 2018.
3. Saint Mary's Huskies, Grade: A-
If we're taking the month of November onwards, SMU is an A+ team. But due to four losses to both StFX and UNB in October, they finish with an A- grade. The Huskies went on to beat StFX in November to kickstart a six game win streak, and beat UNB in an OT thriller last week without Anthony Repaci which was a big statement. Those October losses won't mean a thing if SMU can continue their momentum into the second semester, and most importantly, the playoffs. Hunter Garlent is still an AUS MVP candidate, and the goaltenders Cole Cheveldave and Eric Brassard have both played very well at times for Saint Mary's. Firing on all cylinders with contributions throughout the lineup, the Huskies are taking full advantage of a healthier roster this season.
4. Acadia Axemen, Grade: B+
Although there isn't much separating Acadia from SMU in the standings, the Huskies have definitely had the better season to this point. Acadia have won all the games they were supposed to win. But all their losses have come to Saint Mary's, StFX, and UNB. Obviously if you're going to walk away with an AUS banner, those are the three programs you'll have to get through first at some point this season. Acadia's offence is undoubtedly one of the best headlined by Boston Leier and Stephen Harper. Their defence is deep, Robert Steeves has followed up a breakout year fairly well so far, but the Axemen have to find a way to win close games against the top programs. Injuries certainly played a factor this semester, but there's no sympathy on the scoresheet. This Axemen team gets a B+ but still have A grade potential.
5. UPEI Panthers, Grade: C-
The UPEI Panthers offence gets an A- this year for finding ways to be a problem for even the best defensive corps in the AUS, but issues that persisted last season have grown even worse this season. The goaltending has been an adventure, and the defence has been exposed far too often. Matt Mancina and Matt Mahalak are two very talented goaltenders. The fact that UPEI's team save percentage sits at .844%, dead last in the AUS, is mystifying to me. If one of those two goalies figures it out and UPEI's defence patches at least a few holes in second semester this team can absolutely disrupt the power balance. A great find in Kameron Kielly coupled with big contributions from DarcyAshley, Gabe Guertler and Marcus Power are great. But the Panthers will continue to underachieve if they can't play better defence.
6. Moncton Aigles Bleus, Grade: D
Vincent Deslauriers has been a great find for a rebuilding Moncton program, and Etienne Montpetit is a great sign of things to come for their recruit class. But the results have not been good by any stretch this year. Goaltending and defence are glaringly deficient this season, and it's burned them a number of times. Even their offence has dropped this year without the Saulnier twins as J.F. Plante has struggled to produce at the rate he did last year. Although Moncton was expected to go through growing pains this year, the way they've played on the ice hasn't been very encouraging thus far.
7. Dalhousie Tigers, Grade: D-
This has been a very forgettable semester for the Dalhousie Tigers who weren't expected to be very good offensively, but haven't stolen any games defensively either. Corbin Boes has had an average start to the season, but then again, it's tough to expect a guy like Boes to hold up the numbers he had in previous years on a team that often gets shelled against the top programs. Dalhousie gave UNB a close call a few weeks back, but apart from that game, haven't had many upset opportunities like they did last season.
Other Notes:
After another two losses last week, the UPEI Panthers go into the break with the second-highest GA (92) and worst team SV% at .844 in the country.
StFX leads the country with a 29.0 PP% after having their power play held scoreless on only two occasions this semester. This is as good as StFX's power play has been since they were top three in CIS PP% in 2011-12 with Michael Kirkpatrick scoring seven PPG that year.
Marc-Anthony Therrien has pieced together a quietly effective semester, tying Vincent Deslauriers with nine goals to lead Moncton into the break. His previous AUS career-high was just three.
In regards to teams looking to add bodies over the break, key your eye on UNB, Acadia, and UPEI.
Unsung Heroes:
Calder Brooks, F | SMU Huskies
On a team led by some of the best offensive stars you'll find in the AUS, it's easy to forget about the career year Calder Brooks is having. A WHL recruit who really hit his stride in his overage season with Spokane, Brooks had two fairly modest seasons with his Huskies. Heading into the semester with 11 points in his last eight games, and 19 on the whole semester, he's already set an AUS career-high for points. The goals have still been fairly spread out, but the fact Brooks has made himself relevant offensively as frequently as he has is worth commending.
---
OUA East
First Semester Report Cards:
1. UOIT Ridgebacks, Grade: B
Had it not been for a very underwhelming start to their season, UOIT could have broken into A grade territory. An eight game win streak to close out the semester places them 5th in the OUA East. Their ability to stick with it and salvage their semester definitely counts for something, and the play of Mike Robinson has put the whole league on notice. The games UOIT has lost have come against Queen's, York, McGill, Concordia, Carleton, and Nipissing. That's some tough competition, but if UOIT wants to be taken really seriously, those are programs they need to beat to earn some more respect. Regardless, terrific finish to their semester positions them to make a run in early 2018.
2. RMC Paladins, Grade: A
Frequent readers of TMS know full-well how the Paladins have played lately, as they've been stealing headlines for the better part of the last month. Even after losing back-to-back games to finish 2017, RMC are on one of the best stretches in recent history of the program and are tied with Nipissing for the final playoff position in the OUA East. Being in the realm of the postseason is a perfect goal for the Paladins, and they've achieved that in the first semester. Huge wins over UQTR and big contributions from Riley Brandt and great goaltending from Daniel Vautour and Austin Hannaford have kept them close in a number of games. Phase one of their playoff push is complete. Now it's time to take a break and get ready for the most important semester in years for this program.
3. Ottawa Gee-Gees, Grade: B
A semester of notable highs, but some unimpressive lows makes it a 'decent' start to the 2017-18 season for Ottawa. Eric Locke has come as advertised, and Kevin Domingue still looks as dangerous as ever this year. Unsurprisingly, the same guys that were big for Ottawa last year, are again so this year. That may prove to serve them well down the stretch where they fell just short to the Queen's Gaels a season ago. The Gee-Gees are living quite well in the new division of death, but for them to make a real push into 2018, they're going to need to find a way to thrive.
4. Carleton Ravens, Grade: B+
Much like the Gee-Gees, Carleton's semester brought some good times and bad times. But considering the circumstances they entered this season with, they get a higher letter grade. Pitted against some of the toughest competition in the OUA, Carleton has managed to fare very well with a new interim coach, and both DalenHedges, Jared Steege and Fabian Walsh have been godsends to compliment some of Carleton's top offensive guns. They've done exceptionally well to put themselves in a good position for a run in 2018, but will need to hold this level of production, if not increase, in order to be a real contender in the playoffs.
5. Nipissing Lakers, Grade: C-
After an offseason where I thought the Lakers actually had a decent recruiting haul, Brent Moran and Brett Hargrave have both pieced together very solid rookie semesters. Both Matt Donnelly and Brody Morris have been welcome additions to the blueline, are just 1-8 in their last nine games. That lone win came against Laurentian, who haven't been as hard to beat without their number one goaltender. Nipissing has a roster capable of more than what they've shown so far, but the lack of gumption, especially in the close games, is a little concerning. If Nipissing can't find a way to make all the pieces of their puzzling lineup fit, the RMC Paladins won't be in their rearview mirror much longer.
6. Laurentian Voyageurs, Grade: F
This F stands for forgettable. Everybody wants to forget this semester for Laurentian, including the Voyageurs themselves. After losing Joel Vienneau it's been a disaster with the team losing ten straight since and seeing their GAA inflate to 6.14 in November. Brent Pedersen continues to be one of the few bright spots on a team that's floundering to stay relevant in the OUA East. The quicker Laurentian puts this semester behind them the better. They'll get their rivals at Nipissing for their first game in 2018 in what they hope will be the turning point in what's been a very disappointing season so far.
7. Concordia Stingers, Grade: A-
Still as lethal and dangerous as ever, the Concordia Stingers are doing what they do best in victimizing defensive corps and goaltenders across Ontario and Quebec. Anthony Beauregard has blasted out of the gates to lead the country in points, and he's complimented by an offensive cast deadlier than any other in the east. Their goaltending situation turned out a little different without Philippe Cadorette in the picture, and Julio Billia on the shelf for the whole semester, but credit to Marc-Antoine Turcotte for not missing a beat between the pipes. The two losses against McGill are Concordia's lowest point of the semester, and they'll have to find a way to beat them in the second semester to be considered a top contendor for a Queen's Cup in March. But this semester reaffirms my conviction that Concordia are as close as ever to making a run at a U Cup appearance.
8. McGill Redmen, Grade: A+
Very strong start to the season for the McGill Redmen who only lose three times, once each to Concordia, Ottawa, and Laurier. They've been highlighted by a breakout semester from Jerome Verrier while the usual cast of Dominic Talbot-Tassi, Nathan Chiarlitti, L.P. Guindon, and Alexandre Sills have all had exceptional starts to their season. Looking ahead to second semester, the prospect of adding Nikolas Brouillard to the lineup and potentially Dylan Montcalm and Daniel Milne brings their lineup to the next level. The Redmen have lived up to their expectation perfectly in the first semester and have all the firepower necessary to made a deep run again come February.
9. UQTR Patriotes, Grade: C+
Although the UQTR Patriotes wound up nationally ranked twice over the course of the first semester, their start to the season has had as many bumps as triumphs. Christophe Boivin has been a rookie of the year candidate in the OUA with his game-breaking offensive ability, and the goaltending duo of Sebastien Auger and Alex Belanger are third in the OUA with a combined .925 team SV%. But the Patriotes offence is clearly less dangerous than it was a year ago. Their 57 goals are still sixth in the OUA, but 49% of those goals have come from Boivin, Pierre-Maxime Poudrier, Jason Lavallee, and Mathieu Lemay. Unless UQTR makes a big recruiting splash in the offseason, they'll need to grind out games in second semester to win, unlike last season.
10. Queen's Gaels, Grade: B-
As I wrote last week, the Queen's Gaels have yet to show us what this program is fully capable yet. Injuries took some of the Gaels' top players out of the lineup for a chunk of the first semester, including OUA East goalie of the year Kevin Bailie. Having said that, a seven game stretch from mid-October into November saw the Gaels play Ryerson, McGill, Concordia, UQTR (x2), UOIT, and Carleton but come away with just a two wins. The Gaels did take a couple of those games to overtime, but looking at the big picture, if Queen's intends to make the U Cup again this year, they'll need to get past at least one of those programs in the playoffs. That's a time of year when OT losses don't mean anything. Still lots of potential, but work to be done for Queen's to be the real deal again this season.
Other Notes:
The Carleton Ravens certainly aren't holding back much on the recruit front. They're now getting defenceman C.J. Garcia for the second semester. Garcia was a top ten overage defenceman last season with Saginaw, and was a captain with the Guelph Storm at one point. His journey to Carleton has been a little strange after initially committing to Western before being traded from Wheeling to Colorado (ECHL) only to be released seven games into the season.
The Ravens also went and committed Chiwetin Blacksmith from the Ottawa Jr. Senators (CCHL) for 2018-19. With a big turnover behind the bench and in the "front office" for Carleton, it's clear they're taking advantage of the local talent in the Ottawa region with Brockville Braves captain Andrew Jarvis also committed for 2018-19.
The Laurentian Voyaguers made a move to patch up their goaltending dilemma this week with the introduction of MacKenzie Savard to the program. After spending some time with the Sudbury Wolves, Savard had been with Rayside-Balfour (NOJHL) this season. He's a pretty talented goalie with a decent junior hockey track record. But backstopping the Voyageurs could be his biggest challenge yet.
Among the most notable omissions from the U SPORTS all-star team playing Canada is Anthony Beauregard, the country's point-scoring leader. With Brett Welychka and Spencer Abraham getting the nod, it stays consistent with the preference for veteran players to ice against Team Canada.


Unsung Heroes:

Philippe Sanche, F | Concordia Stingers

With everybody on Concordia's offence getting involved during their terrorizing run of offence heading into the Christmas break, there are a lot of players to choose from on this team for an unsung hero. But Philippe Sanche stands apart because of how he's played since missing five games with injury. With 11 points in his last five games, Sanche is tied with Domenic Beauchemin for 7th on team points scoring. Listed at 5-foot-5, Sanche is one of the smallest players in the country, but he's never let his stature slow down his offensive production. A proficient point-getter with Blainville-Boisbriand in the QMJHL, he's putting up big numbers again with Concordia.
---
OUA West
First Semester Report Cards:
1. Guelph Gryphons, Grade: A-
Slowly but surely, the Guelph Gryphons molded and developed their semester into a run into first place of the OUA West. Although they're tied with York and Ryerson, the Gryphons have been playing better than both lately having gone 9-1 in their last 10. Windsor broke up their nine game win streak to end the semester handing them a 4-1 loss, but the way Guelph played to finish out the end of the 2017 is the envy of the OUA. Todd Winder was a huge surprise leading the team offensively, while Jason Da Silva emerged as the number one goalie. Goaltending will be a huge key for them again in the second semester.
2. Ryerson Rams, Grade: A-
After ravaging the OUA in the last regular season, dropping five contests in the first semester after losing 11 players (including their captain Michael Fine) should be considered a big positive. Matt Mistele has quickly developed into one of the country's best goal-scorers, and the exceptional hustle from guys like Marcus Hinds and Cavin Leth gives them a dimension to their game they haven't had in recent years. Moving forward, the second semester and specifically the playoffs have been the downfall of great regular season Ryerson teams that have never advanced past the OUA semi-finals. This first semester was a good result, but to finally get over the hump they may need to take another step forward before February.
3. York Lions, Grade: B+
The defending Queen's Cup Champions came into the new season with the familiar big guns of Trevor Petersen, Derek Sheppard, and Mack Shields back in the mix, but a new face in Russ Herrington as the head coach. Even though he'd served as an assistant under Chris Dennis there were some question marks as to whether or not this team would look the same. York was off to a good start in October, but November saw some inconsistencies creep into the Lions' game, and an injury to Shields took the reigning OUA West goalie of the year out of action. Nevertheless, Alex Fotinos has been great in his absence. A better November would score York a higher grade, but the fact they're still tied atop the OUA West proves the potential for another Queen's Cup run still exists.
4. Laurier Golden Hawks, Grade: A
What a roaring success of a semester for the Laurier Golden Hawks. Progressively getting better and better over the last few seasons, this year it really looks like they have most of the pieces to their puzzle. The goaltending duo of Chris Festarini and Colin Furlong lead the OUA with a team .927 SV%, and their back-end has a couple great anchors in Kyle Jenkins and Mac Clustam. Offensively their scoring has been very spread out, and if there's anything you'd like to see done better from this program in 2018, it's establish a real game-breaker in their lineup. With huge wins over McGill and York, this was one of the best semester in recent memory for the Golden Hawks program.
5. Brock Badgers, Grade: C+
The first semester for Marty Williamson as head coach has had its twists and turns, but ends on a nice four game win streak for the Badgers. Offence hasn't been a strong point for them, but Matt MacLeod has produced well, as has Brandon O'Quinn. If the Badgers want to improve in second semester, they're going to need players like Mitch Nardi, Brayden Stortz, and Chris Maniccia to hit their offensive stride. In net, Clint Windsor continues to be the ideal goaltender for this program, seeing more rubber than any single goalie. He was rock solid for them again this semester.
6. Waterloo Warriors, Grade: D+
After a very exciting start to the season with big production from Keigan Goetz and Daniel Perigo, the Warriors made a real mess of the final few weeks in 2017. Both Goetz and Markson Bechtold received suspensions late in the semester, and goaltending stumbled to the finish line as well with Mike Morrison and Trevor Martin each having their share of road bumps. After a season where offence was few and far between, finishing the semester with 48 goals for, is definitely an improvement, but it's still obvious the scoring depth has a lot of room to get better.
7. U of T Varsity Blues, Grade: C-
Although the Varsity Blues are riding a six game losing streak into the Christmas break, there's still some positive takeaways from Ryan Medel's first semester as a head coach. Winning their first two games of the year was an excellent start, and finding some nice early semester netminding from Frederic Foulem was encouraging. What hasn't been so great from U of T is the lack of offensive production. In a lineup already strapped for players with great offensive track records, Matt Campagna and Aidan Wallace both had rather forgettable semesters. At their best Campagna is a top-tier OUA playmaker, while Wallace is one of the best power forwards in the OUA West. Both those players will be at the forefront of any offensive improvement the Varsity Blues see in 2018. A tough start, but not an unexpected one for the Varsity Blues.
8. Western Mustangs, Grade: D
This semester has been….. eventful for the Western Mustangs. Practice injuries to Luke Peressini and Liam Herbst in the preseason absolutely crippled Western's goaltending situation, and their defence is without their top player in Jonathan Laser who's been out since taking a slap shot to the face just six games into the season. A hot finish from Trevor Warnaar is promising, and Rob Polesello has established himself as a premiere play-maker in the OUA West, but although Western's offence has been in the top-half of OUA programs, they've found a number of different ways to lose games. After a promising offseason with some solid recruits on paper, struggling to stay out of the OUA West basement again is a very disappointing place to be for a team that was often comfortably seated in the OUA's top four by this time of year.
9. Windsor Lancers, Grade: B
Along with Ryerson, the Lancers had a massive roster overhaul in the offseason which saw a plethora of new faces enter the lineup. The big story with Windsor was who would establish themselves as Kevin Hamlin's next best steal out of the tier II ranks. So far, Kody Gagnon has impressed as one of Windsor's top defenders. But perhaps that's no surprise considering he played with the Chicoutimi Sagueneens in the QMJHL last year. Ian Parker leads Windsor rookie forwards in points, while Ryan Shaw has been pretty effective too. But it's goaltender Johnny Reinhart that looks to be the real deal. His .937 SV% leads the OUA into the break, and he took over starting duties for the final five games of the semester. Great goaltending got the Lancers far in the playoffs last year, and has the potential to do so again this time around.
10. Lakehead Thunderwolves, Grade: C
Overall this was an average semester for Lakehead. Some might write this one down as 'satisfactory' on a report card. Offensively, they've struggled, which isn't a surprise. But both Devin Green and Nic Renyard have served them very well between the pipes. Scott Gall has been a nice find up front, and Thunder Bay native Daniel Del Paggio has also been important in his rookie season. Even after slowing down a little to end the semester, Dylan Butler is piecing together a career season and leads the way for an offence heavily reliant on a couple of contributors.
Other Notes:
Surprise return for Daniel Nikandrov this week to the York lineup who was initially expected to be out for the year. I was told by the Lions that there were signs he might be ready to play again as early as November, but won't disclose the injury. Early November seems like an odd time to start getting signs a guy might be ready to play after being written off for the year just a month earlier.
A year after Aaron Armstrong set Ryerson's single-season points record at 49, Matt Mistele carries 29 points into the break after a 10 game point streak which contained eight multi-point games. Armstrong had 18 points after the first semester last year.
Although there are no guarantees, look for Ryerson, Laurier, Western, Guelph, and potentially York as well to be looking to add a body for second semester.
Unsung Heroes:
Taylor Dupuis, G | Ryerson Rams
Offence has been the bread and butter for the Rams over the last few years, and is again this year. But as anybody knows, good teams don't win in this league without good goaltending. After the Rams lost Mario Culina to the Sudbury Wolves, Taylor Dupuis has taken the reigns and performed quite well, winning five of his last six starts for the Rams. His goaltending may not be lights out, but he's on the best run of his OUA career right now, and has given the Rams a chance to win every night he's started. Timely goaltending is a valuable asset, and Dupuis' perfect SV% in OUA OT action is a great indicator of that.
---
Canada West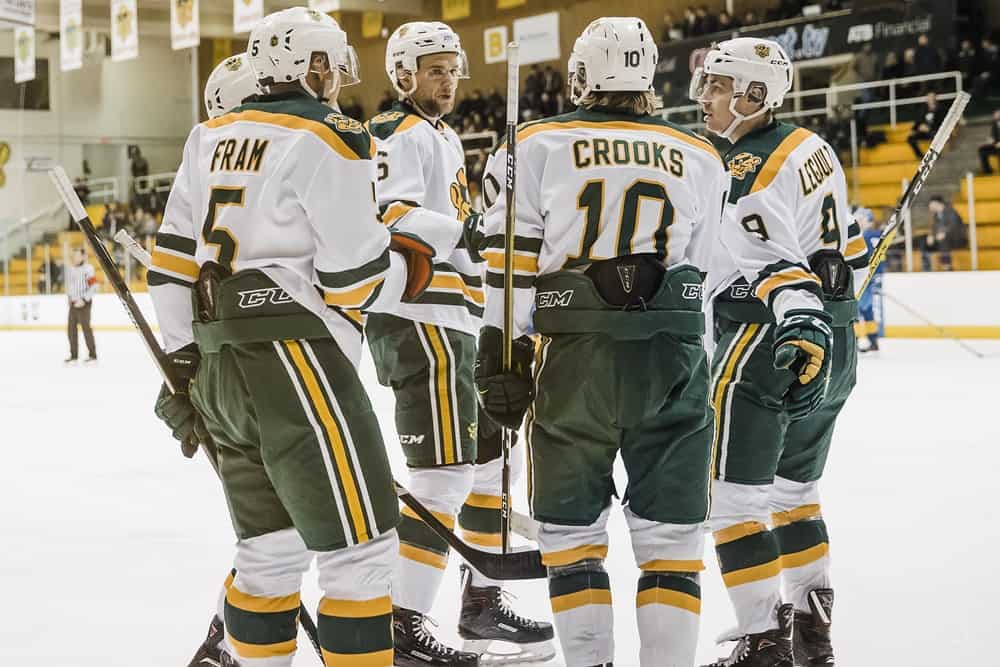 First Semester Report Cards:
1. Alberta Golden Bears, Grade: A+
In a semester where they were one game away from perfection, the Alberta Golden Bears are off to their best start since 2004-05. That season, Alberta won their fifth straight Canada West conference title, and went on to win their first of a back-to-back national title run. It's impossible to ask for anything more out of this semester, as Luke Philp, Trevor Cox, Jamie Crooks, Jason Fram, Zach Sawchenko, and just about everybody else on this roster has lived up to the expectation.
2. Saskatchewan Huskies, Grade: A
Although the Saskatchewan Huskies had a couple of bumps on the radar, and may not have looked as dominant as Alberta did in the first semester, they've proven they're good enough to beat anybody in Canada West. After all, they managed to not only hand Alberta their lone loss, but they shut them out too. Jordon Cooke is up to his usual dominance again this semester, and Josh Roach has ascended to superstar status. All the key ingredients Saskatchewan needs to win were present this semester. It's just a matter of execution in 2018.
3. Mount Royal Cougars, Grade: C+
The Mount Royal Cougars have had to suffer through first semester inconsistencies that might be in part due to an identity crisis. Without Cam Maclise and Matt Brown in the lineup this year, things have visibly changed for Mount Royal's makeup. However, Jamal Watson and Jesse Lees look like they can and will be faces of this program for years to come. Bradley Kennedy pieced together one of the best rookie semesters by anyone in the country, while offensive production from Connor Rankin hasn't lived up to the standard he set last season. Mount Royal needs to continue to develop a new culture of Cougar hockey without the pioneers of what made this program a top three contender in Canada West in recent years.
4. Calgary Dinos, Grade: B
Steady as she goes was the theme for the Calgary Dinos this semester. Fantastic goaltending and a strong defence place them on the precipice of breaking through as a powerhouse in Canada West. Matthew Greenfield and Jordan Papirny were each terrific, while Dylan Busenius gets some good recognition after being named to the U SPORTS all-star team. Calgary doesn't have an offensive superstar like they did last year, but they've still found ways to be competitive with Cain Franson and Chris Collins leading a forward unit which has produced just enough to stay relevant in games.
5. Lethbridge Pronghorns, Grade: C
After a frustrating start to their season where Lethbridge couldn't seem to find a way to win their second game of the season, they've gone on a 5-1 run in their last six games to salvage their semester. As bad as the first month and a half were, the resiliency to stick with it, especially with a roster that was trimmed down to 14 skaters against Calgary last week, counts for something. Garret Hughson has found his rhythm in the Pronghorn crease while Mitch Maxwell popped off for 12 points in his final eight games of the semester. Still a lot of tough slugging left to go for Lethbridge, and their trivial start to the season keeps them in 'C' grade territory. C's get degrees, but they don't necessarily get you into the playoffs.
6. Regina Cougars, Grade: C
After a trivial 2016-17 campaign, the Regina Cougars are noticeably better this season, and close out their semester by giving the nationally ranked Saskatchewan Huskies an extremely close call in a pair of one goal games. Zak Zborosky has panned out as hope so far, while Cody Fowlie, Ian McNulty and a cast of other Regina forwards have shown this team has vastly improved offensively. But the reliance on their goaltenders is still very noticeable, as the workload took it's toll on Michael Herringer who probably needs the Christmas break more than anyone else.
7. Manitoba Bisons, Grade: B-
After finishing their semester on a nice 5-1-2 run, the Bisons have pushed their way up to third in the conference with 20 points. Michael St. Croix and Zach Franko have both been very effective, while Kamerin Nault has broke out in a big way. The Bisons managing to stay fairly healthy this semester, but should they get Remi Laurencelle back soon in 2018, their top six gets an even bigger boost. The star-power on Manitoba still doesn't contend with the top programs, but they've found ways to earn points against everyone else around them in the standings, which is why they're third right now.
8. UBC Thunderbirds, Grade: C-
After triumphantly muscling their way into the playoffs at the last second a year ago, the T-Birds limp into the Christmas break after enduring an eight game losing streak. For a program that suggested in October they were even better than last season, this is a really disappointing way to end 2017. Austin Vetterl continues to be an offensive leader in Canada West, while rookies Tyler Sandhu and Matt Revel have each looked great to begin their university careers. But eight game losing streaks can be season killers if not answered by some sort of counter-run. UBC's second semester just got a lot tougher.
Other Notes:
Jamie Crooks surpassed the 100 career point plateau this weekend with two goals against Mount Royal on Friday, and an assist on Saturday to total 102 points over 123 regular season games with Alberta.
After initially announcing Tyler Coulter as part of their offseason recruit class, the Calgary Dinos are officially getting his services for the second semester. This is a big boost to a Dinos team that has room for improvement offensively, as they get one of the best WHL power forwards from a season ago. Coulter had played 14 games with Jacksonville (ECHL) registering four points in early 2017-18.
The MRU Cougars make an intriguing move with the addition of Chris Gerrie for the second semester. A former CJHL rookie of the year, Gerrie played for the Calgary Canucks and Penticton Vees before playing 31 games at Michigan Tech in 2016-17. After playing senior league with Lacombe, he'll make the jump to Canada West where he looks to help his team find consistency.
After suiting up for the Jacksonville Icemen earlier this week, that all but takes Austin Lotz out as a potential candidate for a short-term acquisition. He was enrolled at the University of Manitoba, but will not be joining a university in second semester.
Unsung Heroes:
Connor Sanvido, F | Lethbridge Pronghorns
When your lineup gets shrunk to as few as 14 skaters, you need absolutely everybody to pitch in from the lineup in order to win. Connor Sanvido played an integral role in Lethbridge's two win weekend with a goal in Friday's 4-1 victory, and another two markers in Saturday's 4-3 win, including the OT winner. Sanvido hasn't typically been relied on to score goals and put up noticeable offensive numbers, but with five points over a four game pointstreak, he's paid offensive dividends for the Pronghorns. They'll take this kind of production from Sanvido anytime they can.