After a (mini) hiatus, the rankings are back! Check in where your team stands heading into the stretch run of the season.
---
17. York Lions (4-11, 5-22 Overall)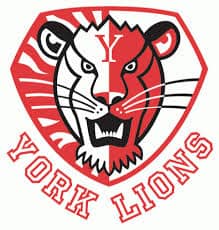 Following a strong surge that included the upset win over Mac at the Burridge Gym, the Lions find themselves back in the OUA cellar. They currently sit dead last in RPI and their losing streak extended to four with the 26 point loss at Ryerson on Wednesday night.
16. Waterloo Warriors (3-11, 7-18 Overall)
Following a rivalry loss at home to Laurier, the Warriors put up a very impressive effort in a three point loss at Brock on Wednesday evening. Nedim Hodzic continues budding into a centrepiece player dropping 22 points on 8-14 from the floor as well as grabbing eight boards while going toe to toe with Dani Elgadi.
15. Lakehead Thunderwolves (3-10, 7-17 Overall)
The Thunderwolves were idle this week, presumably shovelling a ton of snow in Thunder Bay.
14. Western Mustangs (3-11, 7-18 Overall)
The week off after their sweet shooting win over the Lancers wasn't kind to the Stangs, as they were humbled in home defeats to Ottawa and Carleton. This week they head to the Sault for two games against Algoma, where a sweep would be needed to get Western ahead of the Thunderbirds in the race for the 12th and final playoff spot.
13. Algoma Thunderbirds (4-10, 11-17 Overall)
Although the T-Bird dropped their lone game this past weekend by 18 at Guelph, their 79-78 win over the Lancers on the 21st will be a season highlight. Sean Clendinning finally had the type of performance that Thomas Cory had been waiting for all season, as he broke the 20 point barrier for the first time of the year, finishing with 24 on 7-15 from the floor along with four assists. As stated above, whichever team sweeps this weekend series at the George Leach Centre will have a leg up in trying to sneak into the 12 seed.
12. Guelph Gryphons (4-10, 8-17 Overall)
Not much to say about the Gryphs, they beat the teams they're supposed to beat and lose to all the teams above them in the standings. In the next four, they face Nipissing, Laurentian & Lakehead twice and to even have a sniff of the playoffs will need to grab two of those games.
11. Queen's Gaels (6-8, 12-15 Overall)
What a lost season this has become for the Gaels, as they currently find themselves out of a playoff spot and playing some of their worst basketball of the past few seasons. Their only win of the month was in the first game back way back on January 6th against Western, while their most recent loss was a 21 point embarrassment at the hands of Laurentian on their home floor.
10. McMaster Marauders (7-8, 22-8 Overall)
The Mac free fall continues, as the loss of Rohan Boney rendered them helpless against the likes of Ryerson and Toronto on their recent road swing. On a more positive note, the Marauders have been a victim of home playoff upsets the past two seasons, and have the potential to return the favour as a road dog this season if they're unable to go .500 or better over their last four.
9. Windsor Lancers (8-8, 17-12 Overall)
There has been no more confounding team this year in the OUA than the Lancers. After beginning the season shorthanded with the loss of Isiah Osborne in September, Mike Rocca and the supporting cast kept themselves afloat while waiting for the additions of Luke Allin and Mitch Farrell. Oddly enough, this team has actually played much worse with a full roster, barely surviving against Queen's, dropping bad games to Western and Algoma, and not even putting up anything close to a fight at home against Ottawa and Carleton. This team will need to get it together and shoot better than the 37% average they hold this month if they want to hold onto the division lead while taking on the Golden Hawks at home next Wednesday night.
8. Laurier Golden Hawks (8-8, 12-14 Overall)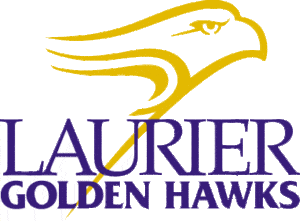 Justin Serresse's team couldn't be in a better position heading into their matchup against as they'll look to sweep the Lancers on the season, extend their winning streak to 3 games, and lock down the OUA West division title. Matt Chesson exploded for 31 points against Waterloo and Chuder Teny has reached double figures in their last four games, as those two will join freshman scoring stud Tevaun Kokko in a three-headed scoring attack at the St. Denis Centre. This is a team that's definitely going to be on the rise in the OUA for the foreseeable future.
7. Laurentian Voyageurs (6-9, 7-13 Overall)
Despite being outscored 27-16 in the 4th quarter during their home loss to the Lakers on January 20th, the Voyageurs bounced back in a big way delivering 20+ point wins at York and in Kingston against the Gaels. Kadre Gray continues to lead the league in scoring at 23 points a night on his fast track to U SPORTS ROY, and the improved offensive play of David Aromolaran and Nelson Yengue have played a big part in the team upping their averages to 76.6 PPG and 43% from the field in January. When you include the strength of their division into the RPI equation, if they are able to go 3-1 or even 2-2 there is a strong possibility they could host a playoff game.
6. Toronto Varsity Blues (9-5, 15-12 Overall)
It may sound oversimplified and cliched, but John Campbell's Blues are at their best when everybody is contributing, best evidenced by their past two results. Devin Johnson dropped 37 points in a disappointing road loss at Laurier, but only scored 15 in the home win over McMaster as Reilly Reid got hot and shouldered the load on 9-16 from the field for 22 points. With their final three games coming against the giants of the league, we'll see whether this team is able to flourish or fold heading into the playoffs, and whether the beautiful Goldring Centre will get a taste of high stakes hoops.
5. Nipissing Lakers (7-8, 11-13 Overall)
Break up the Lakers! Coming out of the Ottawa swing, Nip has won three in a row and are playing the best basketball in the history of the program right now. Marcus Lewis is scoring and rebounding like the D1 prospect he was/remains, Justin Shaver is a double-double machine whether he's in the starting lineup or coming off the bench and each night a new reserve steps up to provide extra scoring punch. With their last four coming against sub .500 teams, the Lakers could easily run the table and host their first ever playoff game. Hats off to Chris Cheng.
4. Brock Badgers (11-4, 19-9 Overall)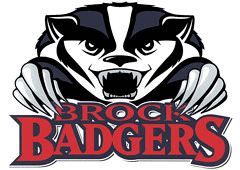 Yes they beat the Rams at the Meridian Centre behind the force of a raucous home crowd. Yes they then went on to blow out the Gryphons in Guelph. So why aren't they above the Rams you ask? Well, they were nearly downed in their own gym by the Waterloo Warriors, surviving 66-63 by the skin of their teeth. While Dani Elgadi continued to dominate with 22 points and 15 rebounds, Johneil Simpson was nowhere to be found, as he was only able to score 6 points while going 0-for from 3 point land. No other starter scored more than 5 points, and when Cassidy Ryan is the 2nd leading scorer, this team lacks the punch to hang with the big dogs on a longer term period. That being said, they most likely will not lose another conference game and will be rolling as they try to make their first Wilson Cup Final Four under Charles Kissi.
3. Ryerson Rams (14-1, 19-4 Overall)
The Rams were able to rebound from their first conference loss in nearly a year and cruise to a 26 point win that was never even that close at home to York last night. They still struggled as a team from three point range, only going 10-35, but Manny Diressa and Adika Peter-McNeilly bounced back with 20 points a piece and Myles Charvis was able to find his offence in a bench role dropping 13 points on 5-9 from the field. The Rams will host division rival Queen's on Friday night while trying to hold off the Badgers for the 3 seed in RPI before heading up to Ottawa in two weeks time.
2. Ottawa Gee-Gees (13-1, 25-4 Overall) 1. Carleton Ravens (14-0, 26-2 Overall)
Combining the top two spots here in a mini preview of Capital Hoops, where the Gee-Gees will look to bounce back from the drubbing they took at Montpetit hall two weeks ago. In front of a sold-out Canadian Tire Centre, Ottawa will need to show up early and knock down some early shots from long range, as another single digit 1Q will stomp out any of their chances at a win. I think we could potentially see Caleb Agada used at the point to facilitate against the suffocating Ravens transition D, and he will need to be uber aggressive and get to the free throw line to make a major impact. On the Ravens side of the things, everything is clicking right now, and if Eddie Ekiyor dominates on the block and pick 'n roll against Brody Maracle & Jean Emmanuel Pierre-Charles, it might not matter how well Ottawa shoots the ball at all.