AUS
Top Stories:
1. In what was billed as the biggest matchup of the first semester, the StFX X-Men were outshot, outscored, and outclassed by the UNB Varsity Reds who won 5-3 on Friday night. StFX went on to recover from a modest three game losing streak with a win against UPEI, but you know they wish they could've started better against UNB. Early markers from Chris Caissy and Dylan Willick put StFX in a hole which they'd never climb out of. As for UNB, they cruise to another two win week, and are receiving all sorts of offensive contributions. Gardiner MacDougall has been pleased with the start from Alex Dubeau in net this season, but even more so with Kris Bennett, who now leads UNB in points. Midway through November often gives us a good read of how teams are in comparison to last year, and the consensus around the league is that although UNB may not be the possession team they were a year ago, they're as fast and as lethal as ever.
2. The saga continues for the Acadia Axemen, but this time things are turning for the better. The fact they've won five of their last six games, considering the circumstances, has to be considered one of the most impressive team achievements this season. Acadia's offence has carried them, coupled with their power play, and their defence and goaltending have been just good enough to fend off attackers. Alex Lepkowski is set to return this week, and Matt Pufahl was a very welcome addition to their blueline again. With Marc McNulty and Liam Maaskant also joining the fold, Acadia's defence is precisely one Geoff Schemitsch away from full strength. Once they finally get there, they can make a serious case for the best in the AUS should their goaltending hold up.
3. The UPEI Panthers finally snapped their seven game losing streak against Dalhousie in a tight 5-4 victory. Kameron Kielly and UPEI's high-flying offence were at it again, but defence and goaltending still aren't where they need to be. UPEI has a country worst .843 team SV%, and are the only team in the country to not have a .900%+ save percentage in a single game this year. That shouldn't be the case, given Matt Mancina and Matt Mahalak are two very accomplished goalies. The penalty kill numbers are reflective of their poor play in the defensive zone too, but it's been better in the last three games killing off five of six penalties. Prior to that, UPEI had allowed at least one power play goal in their first nine games of the season.
4. The first semester of the 2017-18 season has been much more kind to the Saint Mary's Huskies than 2016-17 was. At this point last year, they had lost Justin Weller after just two games, and the injuries continued to pile up on a blueline that was strung out to its last limb. Now that they've managed to stay relatively healthy, we're getting a good look at what Saint Mary's would have been capable of last year. This year's team isn't a whole lot different than last season, and they've pieced together a perfect 4-0 record to this point in November. Among their most impressive performers is Jake Coughler, who's 12 assists are second to only Kameron Kielly in rookie assists in the country.
5. The Moncton Aigles Bleus got absolutely hammered to the tune of 13 goals against, and had only two of their own. In their last three games since their first win of the season, Moncton has been outscored 19-3. That's not how you're supposed to transfer momentum from a win into the next few games. Moncton had absolutely nothing for us this week, offensively, defensively, or between the pipes. Now they get to face the two teams that handed them losses this week when they see Acadia and Saint Mary's again this week, this time at home.
Other Notes:
Although he's still a ways away from returning, UNB hopes Chris Clapperton will return to classes full-time this week.
For those wondering if the AUS football debacle is affecting the men's hockey realm, there's a very strict 'no comment' policy from Saint Mary's. FWIW, at worst, the only impact it can really have is on SMU's recruiting reputation. But even that might be a stretch.
The Dalhousie Tigers gave UNB another good run on Saturday night thanks to 38 saves from Joe Gladnick… yes you read that right. Corbin Boes was held out of action for the first time this year. Although it was a loss, nice work from Gladnick.
Despite the recent struggles from UPEI, Ryan MacKinnon is generating great reviews from scouts. As one told me on the weekend, "There's not a single team in the AUS that wouldn't get better with MacKinnon in their top four [defensive pairings]".
Unsung Heroes:
Cam Brace, F | UNB Varsity Reds
After being held out of the lineup at the 2017 U Cup, some had to wonder whether or not Cam Brace would get another shot to be an offensive leader for UNB. Fortunately for him, everybody's had that chance this season, and Brace has silently been a contributor for UNB. He's currently on a six game point-streak, and scored twice against Dalhousie. Although Brace's three goals this season are a ways off his career-high of 15 from 2015-16, the consistency of his game will be what keep him in an influential position in UNB's lineup all year long.
Key Games This Week:
Acadia vs SMU | Wednesday, November 15, 7:00 pm AST
In a week of repeat match-ups, for the sake of not listing StFX and UNB again, here's the next best thing. Saint Mary's has been on a great little roll of late, but now with Acadia nearing full strength, they become a tougher team to beat in theory. Both programs are currently tied in the standings, but if Saint Mary's prevails with another win against the Axemen this week, there's a good case to suggest the Huskies are the better team right now.
---
OUA East:
Top Stories:
1. What a story-book weekend for the RMC Paladins. Still searching for their first win of the season, they grab not one, but two against the UQTR Patriotes on home ice this Remembrance Day weekend with Hometown Hockey stopping by RMC. Nick Boddy scored the OT winner on Friday night, and the Paladins pieced together a decisive 4-1 victory the following night. After a slow start to the season, this performance came out of nowhere. It's the first time in over a decade the Paladins have beaten UQTR in the regular season. It's a far cry from when they were outscored 20-0 by UQTR over two games in 2014-15. As you may expect, goalie Daniel Vautour played a big part in the final result. Vautour stopped 74 of 76 shots sent his way, picking up the first two wins of his OUA career. Offensively, David Savery posted his first career multi-goal game in the OUA, and Rhett Willcox added three assists on Saturday. The Paladins certainly couldn't have picked a better time to play some of their best hockey of the season. But if they can't find a way to continue their momentum, it won't mean a whole lot in the big picture.
2. This week was a bad week for the UQTR Patriotes. Losing to a winless team twice as a nationally ranked program is enough to leave a sour taste in your mouth, but there's a little more to the picture. Masked by RMC's improbable result this week is the fact that Saturday's contest turned into a fairly ugly affair. RMC's Jared Toole stapled Olivier Caouette into the boards early in the second, knocking him clean out. Very reminiscent to the Chris Clapperton hit a few weeks ago. After an ambulance whisked Caouette to hospital, things got chippy between the two teams. After Rahpael Maheux took a run at Nick Boddy late in the third, a total of 16 penalties were assessed between the two teams in the final two minutes alone. Mathieu Lemay led the way with 24 PIMs on the night. After both losses, the Patriotes left RMC hanging at center-ice, refusing to shake their hands. Not a good look. Having only scored three goals in their last three contests, this is a pretty clear indication UQTR's offence isn't what it was last year.
3. The goaltending stats from this year's Carleton Ravens are looking strikingly similar to what they pieced together few years ago en route to their last appearance at nationals. That season Carleton led the OUA in GAA (2.15) and had a team SV% of .921% between Patrick Killeen and Francis Dupuis. This year they lead the OUA with a GAA of 1.99 and in team SV% with .934 between Francois Brassard and Justin Nichols. But when it comes to possession, Carleton outshot their opponents by a whopping 319 shots in 2015-16. They're only outshooting their opponents by two so far this year. However, their offence has still produced quite well, especially Jared Steege. His two goals this week now tie him with Ryersons' Matt Mistele and Ottawa's Kevin Domingue with 10, second most in the country. Adam Marriner holds the record for most single season goals by a Raven rookie with 20. That record could be in jeopardy at this rate.
4. The UOIT Ridgebacks broke out of a four game losing skid with big wins against both the Queen's Gaels and Ottawa Gee-Gees this week. Both one goal contests, Mike Robinson extends his point-streak to four games, and is the obvious offensive leader on the Ridgebacks. Goaltending was better this week, but it still hasn't done UOIT many favours thus far. On a team that hasn't gotten off to a very good start, the same can't be said for the power play, which ranks second best in the OUA at 21.7%. That's a nice surprise for a team that isn't know for offence as their bread and butter. Robinson has had a hefty hand in the success of their special teams, but this is where Brennan Roy is making a big difference too. As their power play quarterback, seven of Roy's eight points this year have come on the man-advantage. With Danny Elser on the shelf, some key players are starting to emerge for the Ridgebacks.
5. After running the gauntlet of Ryerson, McGill, Concordia, UQTR x2, UOIT, and Carleton, the Queen's Gaels emerge with just one victory. That's a bit of a letdown from a team that was supposed to be a national contendor again this year. But the road ahead gets marginally easier for the Gaels. With RMC, Laurentian, and Nipissing all due up a combined nine times on the schedule, there's a lot of points for the taking.
Other Notes:
As far as 'upset of the year' candidates go, UQTR has been on the bad end of a couple this year. It wasn't that long ago they were shutout 3-0 on home ice by U of T to start 2017.
Now losers in four straight, the Ottawa Gee-Gees turned to young Nick Hodgins in the net this week. Goaltending hasn't been a strength for the Gee-Gees this year, mustering an unimpressive .891 team SV%.
Anthony Beauregard continues to put on an absolute clinic in the OUA. He reached the 10 goal plateau in just his ninth game, making him the fastest Concordia Stinger to do so since Olivier Hinse scored 10 goals in his first seven games in 2013-14.
After going just 4-for-51 on the power play this season, the Nipissing Lakers have the second worst PP% in the country (7.5%). I pointed out their power play struggles last week, but I've brought them up again this week because had they not gone a combined 0-for-13 against McGill and Concordia, the scoresheet could have looked a lot different. If the Lakers ever figure out their power play, they can be a decent team in the OUA East.
From the top of his game to the sidelines, Joel Vienneau is now injured forcing Laurentian to turn to Gunner Rivers in net. Joining him as backups are Andrew Lefebvre (Jr. C product) and Devon Debastos (Timmins, NOJHL). So far, bad start for them after Laurentian conceded 14 goals this week.


Unsung Heroes:

Jesse Baird, D | UOIT Ridgebacks

On what's been a fairly punchless blueline (not including Brennan Roy) at UOIT, Jesse Baird had himself a nice coming out party with a hand in UOIT's first three goals against Queen's, and adding an assist against Ottawa in a 5-4 win. One of a handful of recruits from last year's RBC Cup champion Cobourg Cougars, he's starting to fit into a UOIT lineup that has much more potential than what it's shown thus far.
Key Games This Week:
Concordia vs McGill | Saturday, November 18, 7:30 pm EST
With Concordia narrowly missing out on the CUSN Power Rankings top 10 this week, their two game series against McGill is their best opportunity this season to show they truly are a top 10 program in the country. For McGill, their start has been immaculate, and even though there's no shame in losing to Concordia, every win counts for something in a 28 game season.
---
OUA West:
Top Stories:
1. Here we go again. It's time for another Western Mustangs goaltender update. Zach Springer drew the start on Wednesday against U of T, and suffered the first loss of his OUA career. Dan Davies was summoned back into action on Friday against York, taking another loss. But then Luke Peressini made his return to the crease for Western on Saturday, which was great. That is until he left with injury again halfway through the second period. Davies was called back into action, and Western went on to lose their second game to U of T in under a week. Having dropped three straight, the bounces continue to pile up against them. Cordell James added his second short-handed goal of the season, but now both Anthony Stefano and Jonathan Laser are out of commission for the Mustangs.
2. Among the more consistent teams this year are the Laurier Golden Hawks. That's something we haven't been able to say for years. Worth noting, there's still lots of time for their record to go south, but as of right now, they're deservedly a top three OUA West team. They've been competitive in absolutely every game thus far, and haven't lost by more than a goal. Believe it or not, they're scoring at a better rate without Derek Schoenmakers, in large part due to Brandon Robinson and Anthony Sorrentino. It appears that without relying on Schoenmakers and a single line to consistently score, teams are having trouble solving a Laurier program with a deeper offence than it's had in recent years. Couple that together with a strong start from both goalies, and bang, you've got seven wins in your first 10 games.
3. The Brock Badgers pieced together one of their best efforts of the season against against Ryerson on Wednesday, and followed that up with a narrow shootout loss to Laurier. Not a bad showing against two of the top three teams in the OUA West. Alex Brooks-Potts saw his first action of the season against Laurier in relief of Clint Windsor, and was a big part of Brock's comeback after trailing 3-0 after the first. In his OUA career in relief appearances, Brooks-Potts has a .926 SV%. That bodes well for keeping his team in games when necessary. His numbers last year show he might be worth a shot as Brock's starter in the post-Windsor era. As for the team in front, the Badgers continue to be far better at home than on the road. Matt MacLeod leads the team offensively, and Brandon O'Quinn has eight points in 10 games as the 'where did he come from' recruit. Finally, ex-OHL tough guy Mack Lemmon leads the team with five goals, a surprise to many.
4. The York Lions got back to their winning ways with a weekend sweep of the Western Mustangs and Lakehead Thunderwolves. The penalty kill continues to be fantastic for the Lions, but their power play is just 1-for-23 over their last six games. One has to wonder how much the absence of their PPG leader from a year ago, Greg Milner, is influencing that number. But on a team with Trevor Petersen, Derek Sheppard, and Scott Feser, there's still enough offence to be better on the man-advantage than what it's been. York's defensive numbers are still immaculate, and a large part of this team's winning culture.
5. Flat weekend for the Lakehead Thunderwolves who promptly lose all three games to Guelph, York, and Ryerson. Still no sign of Billy Jenkins, who this team has relied on heavily for offence in recent memory. On the upside, Daniel Del Paggio has scored in five of his last seven games, Scott Gall continues to fill the net, and Dylan Butler is a point-per-game player. Many of the same issues that were questioned coming into the season were apparent again this weekend, specifically their lack of depth. With Toronto and UOIT on the schedule to close out their semester at home, there's still ample opportunity for them to gather a few points before Christmas. But what this team could really use is a game-breaker up front.
6. After wins against Lakehead and Waterloo, the Guelph Gryphons are sailing right along on the wave of a four game winning streak. Todd Winder extended his improbable nine game point-streak with a goal and an assist, while Patrick Kudla has finally started to show signs of taking his game to the next level in the OUA. After turning to Andrew Masters to start the season, he's been outplayed by Jason Da Silva who has started the last four games for the Gryphons. In wins, Guelph is allowing 2.00 goals-per-game, while in losses that number skyrockets to 5.22. Obviously the GAA is going to be better in wins, but the stark contrast suggests that goaltending is playing a very big role in whether or not Guelph wins. When the goaltending is there, the Gryphons can beat anyone, when it's not, the score isn't even really that close.
Other Notes:
Ryerson's Cavin Leth becomes just the third Ram to score four times in a single game when he exploded against Lakehead on Sunday. Ex-Rams Kevin Krasnowski and Daniel Lombardi are the only two others to ever go a step further than a hat-trick in a Ryerson uniform.
Matt Mistele is quickly making a case for best forward in the conference after piecing together a dominant eight point week on a line with Cavin Leth and Marcus Hinds. Separating your best goalscorer from the OUA's point-leader from a season ago, Aaron Armstrong, wasn't the obvious move, but it's worked thus far for Johnny Duco.
U of T get back in the win column with two victories over Western this week, and are an impressive 5-1-1 head-to-head against the Mustangs in their last seven meetings.
Offence has been hard to come by in November for the Windsor Lancers who are lead offensively by a defenceman who wasn't even in the lineup this week, Kody Gagnon. Still no sign of Justice Dundas and Todd Ratchford in the lineup, which doesn't help matters.
Unsung Heroes:
Anthony Conti, F | Laurier Golden Hawks
Although Anthony Conti didn't actually register a point this weekend, he single-handedly secured two extra points for Laurier in what was a perfect weekend. Laurier has already been in four shootouts this year, and after going to a seventh round against Brock, Conti finally got the call. His goal was the only one of the 14 shooters, and when called upon right away to leadoff the shootout against Windsor the following night, Conti scored again what turned out to be the winning goal. Not bad for a player known primarily for his ability to switch between forward and defence.
Key Games This Week:
Windsor vs York | Saturday, November 18, 4:15 pm EST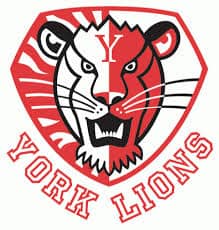 A rematch of last year's OUA West conference finals, the Windsor Lancers are looking to put some distance between them and the basement. They know this is a York team they can beat, and they'll have home-ice advantage come Saturday. But the Lions are proving no easier to beat this year than last. Expect a hard-nosed, low-scoring game at South Windsor Arena.
---
Canada West
Top Stories:
1. The first iteration of this year's Crowchild Classic gave us a couple solid contests between the MRU Cougars and the Calgary Dinos. Calgary continues to have a respectable offence with Coda Gordon, and blueliner Ryan Gagnon denting the scoresheet for multiple goals this weekend. But it's the goaltending and defence from Calgary that continues to impress the most. Only once this year have the Dinos have a sub .900 SV% game, which was a 7-5 loss to Alberta. Matt Greenfield has starred front-and-center, but Jordan Papirny hasn't missed a beat either, and picked up another win over MRU. For the Cougars, their green defence and suspect goaltending has had its rough patches, but two late goals on Saturday make Calgary's 5-1 win look less competitive than it actually was. Veteran Cam Lanigan drew both starts this week, making him the third Mount Royal goalie to take to the crease.
2. The Saskatchewan Huskies survived a couple close calls at the hands of the UBC Thunderbirds this week with an OT victory on Friday, and a comeback from down 2-1 on Saturday to win 5-2. Jordon Cooke was good again this week, shocker. He now has his 50th win in a Huskies uniform. Saskatchewan's lineup never seems to be the same each night with some player or another in or out. This week, it was Jordan Tkatch who saw his first action of the year. For the T-Birds, their level of compete was very respectable this week, and that's why they stayed closed with Saskatchewan for most of the series. UBC's penalty kill continues to be lacklustre, allowing another three PPGA to the Huskies. But their power play is a different story. Clicking at 25.6%, Austin Vetterl leads the way with four power play markers, and added another on Friday. Some of the young guns are having a good impact early too for UBC, as Tyler Sandhu and Matt Revel have four and five game point-streaks respectively. Although, Revel was held out of action on Saturday with injury.
3. A dismal start to the season didn't get any better for the Lethbridge Pronghorns who lost both games to the Alberta Golden Bears by a combined 13-3 this weekend. Lethbridge now has the worst offence, and some of the worst goaltending in the league. The offensive struggles aren't exactly a big surprise considering Lethbridge was actively searching for, and missed out on, a top six forward out of the WHL. But the goaltending struggles are a little unexpected considering how good Ty Edmonds was in the WHL last year, and Garrett Hughson was until the final few weeks of 2016-17. Regardless, a bad offence, and unimpressive goaltending is a bad recipe, and the result is a 1-8-1 start. For Alberta, they move to a perfect 10-0-0. That's the best start in program history since Alberta went 12-0-0 to start their 2013-14 campaign.
4. The Regina Cougars managed to pile 51 shots on the net against the Manitoba Bisons on Saturday, but ultimately fell short in overtime en route to another winless weekend. When the Regina offence gets kicking, they can be deceptively deadly, and Manitoba found that out pretty quick on Saturday after stifling Regina in a 6-1 win on Friday. Regina have outshot their opponents three times this season, something they only did four times a season ago. Part of that is due to better possession numbers this year, but also in part of Cody Fowlie's 37 shots, just three back of Alberta's Jamie Crooks for the conference lead. He's posted seven points this year, not far behind offensive leaders Ian McNulty and Zak Zborosky. On Manitoba's side, four straight wins have them threatening Calgary for the third spot in the conference. Over that winning streak, Michael St. Croix has seven points, Kamerin Nault has six points and two game-winners, and Zach Franko has six points of his own.
Other Notes:
The latest out of UBC is that forward Graham Millar is close to returning from his concussion he suffered in the offseason. But defender Tanner Faith is still a ways away from returning to the lineup.
Among the slow starters this year is last season's Canada West points leader Connor Rankin. After battling injury, Rankin only has three points through his seven games played.
One of the most dynamic rookies from last season, Remi Laurencelle returned to the lineup against Regina and registered a goal and an assist. Although still a sophomore, Laurencelle can make a big different to the Bisons' lineup.
Speaking of returns, Jayden Hart was back in the lineup for Saturday's game against Lethbridge. Exactly a year ago today, he was leading the Canada West conference in scoring.
With Clare Drake heading into the Hockey Hall of Fame this week, he was in the house for Alberta's home-stand against the Pronghorns. You can see the pre-game ceremony the Golden Bears had to honour one of the great university hockey coaches of all-time here.
Unsung Heroes:
Brandon Magee, F | Alberta Golden Bears
Of all the big recruits headed to Canada West this year, Brandon Magee was one with more questions than answers. How will he respond to university hockey after a year playing senior league? How will he fit into the Golden Bears lineup? Is he going to produce like he did in the WHL? The answers are in the numbers, with eight points through his first seven games. It's still relatively early, but Magee is off on the right foot for Alberta, which is huge for his chances of being an impact player throughout the season. Often times players incoming from pro have great hockey resumes, like Magee, but don't always make the transition, like Todd Fiddler. So far, so go for Brandon Magee.
Key Game This Week:
Alberta vs Saskatchewan | Friday, November 17, 7:00 pm CST
Not only is this the game to watch in Canada West, but it's the most important game in the entire country this week. Only UNB and StFX have an ongoing rivalry comparable to this one. Coming into this match, the Golden Bears have the edge on paper, mowing down all their opponents while Saskatchewan has had a much tougher time. But the Golden haven't seen a team like the Huskies yet this year. There will be emotion, there will be bad blood, and there will be a fantastic game at Rutherford Rink on Friday night.